I have started making a fantastic foaming hand soap. I get really concerned about all of the antibiotics that I come in contact with. Having had an antibiotic resistant bug in the past, this is something I like to keep an eye on. I really like clean hands and love foaming antibacterial soaps. I just don't like the antibacterial aspect of the soap. So I started making my own with liquid Castile soap, essential oils and some water. It's in expensive, all natural and smells wonderful. The use of peppermint essential oil makes it invigorating as well. I love it!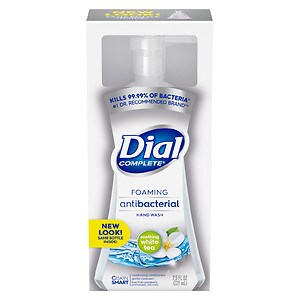 If you are like me, you already have a few foaming hand soap pumps. If not, the dollar store sells foaming hand soap. Go buy a bottle, and either use or dump the contents. Then follow this really easy recipe.
Peppermint Foaming Hand Soap
1 part Dr. Bonner's liquid Castile soap
3 parts water
5 drops peppermint essential oil, you can use any kind you want
Combine in the pump leaving a little head space in the container, give it a shake, and it's ready for use.
I like to use an essential oil that has some antibacterial properties on its own. It doesn't contribute to resistant bacteria and I get all the benefits of using the oil. It's a win-win for me. Plus it's really inexpensive to make.
Hope this post has inspired you to cut a few antibiotics out of your life and help stop the spread of resistant bacteria.
Joy